JEEP ROCK SLIDERS - ANY VEHICLE.
Made from 1 3/4", .120 wall tubing, these welded tubes rigidize and buffer the impacts to your fragile rocker panel area under the doors. Minimize the chance of doing frame and door damage!
Rock Sliders allow you to put the bottom side of your door area directly onto large boulders and slide your vehicle across the rock to the other side. Maintain the integrity of your Jeep's frame.
Rock Sliders also offer greater protection for higher up on your doors by helping to prevent your vehicle's sides from crushing up against rock walls or sliding down rock faces. Jeep Rock Sliders are the way to go. Make sure to have them custom-fit and welded into place for the best performance and durability!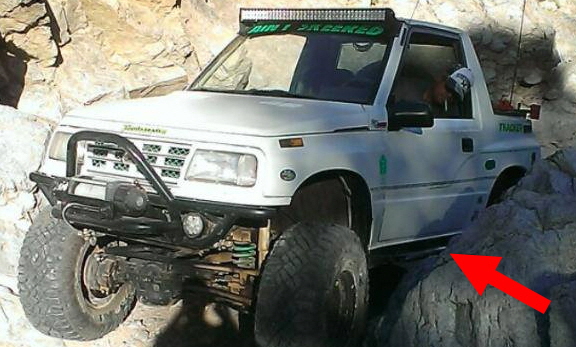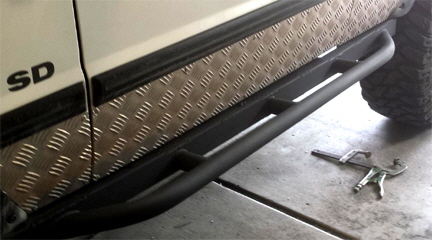 JEEP Rock Sliders allow you to drive with confidence.
R&W
Rock Sliders are welded into place for the toughest construction possible.

ROLL BARS AND CAGES...
ANY VEHICLE.
Made from 1 3/4", .120 wall tubing, these welded tubes rigidize and buffer the impacts to your entire vehicle.
Roll bars are best when welded directly to strong steel and chassis sections of your vehicle. Never rely upon bolt-in units! Welded steel roll bars can help to save your life and your vehicle.
The super rigid roll cage and bars can improve handling, on and off road. Roll bars are also great places to mount other safety devices, like fire extinquishers, medi-kits, and shovels. If you're going to tackle difficult terrain, make sure that you come back in one piece. Make sure that your Jeep (any 4x4) can take the beating that you know you're going to give it.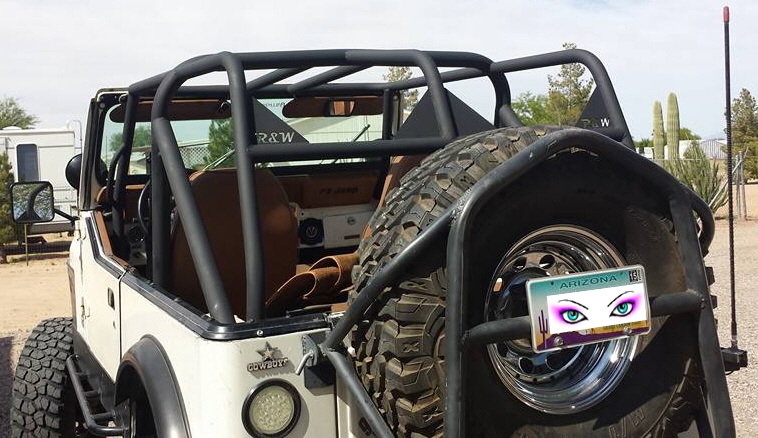 X X X ---------- CUSTOM TIRE CARRIERS, BODY ARMOR AND TUBE FENDERS ALSO. ---------- X X X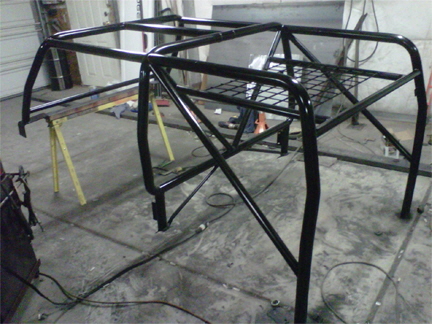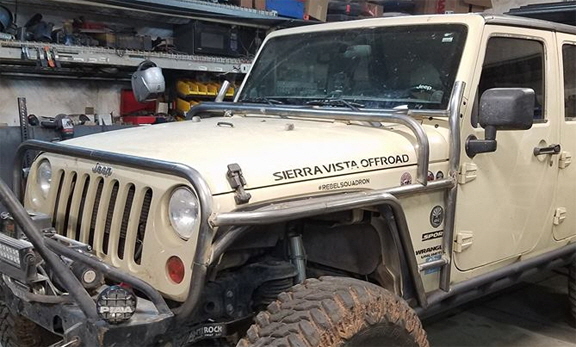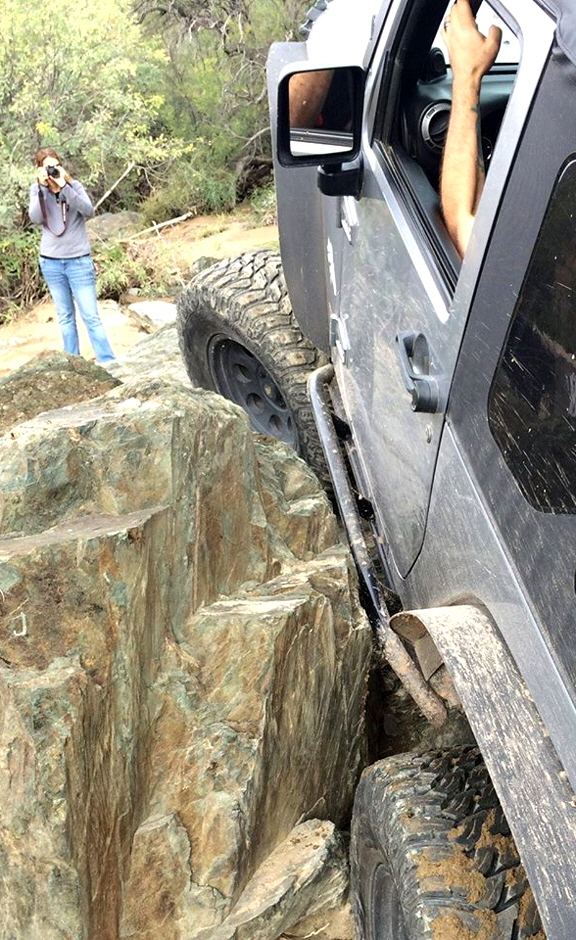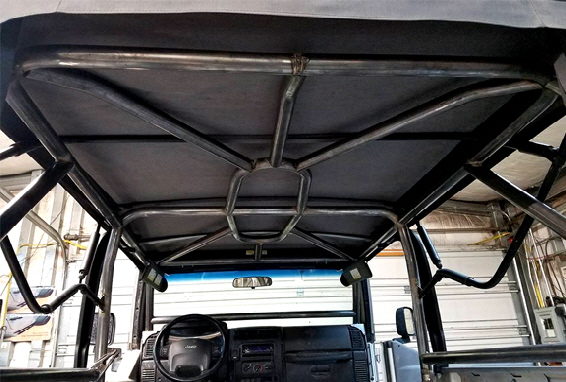 Prepare for hazards and improve safety!
CALL
(520) 235-6242
Just Do It!
CALL
(520) 235-6242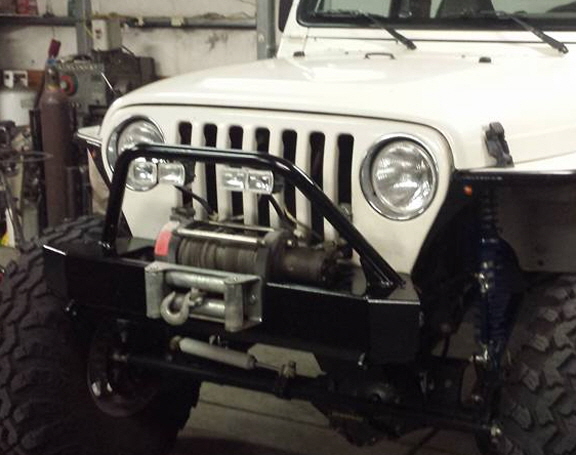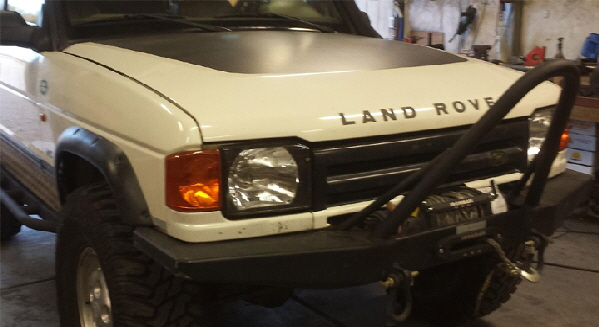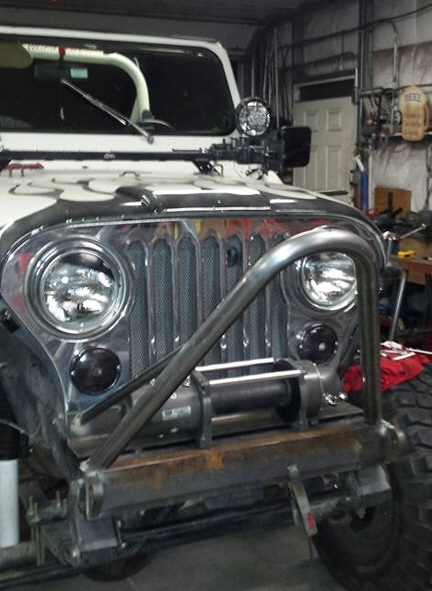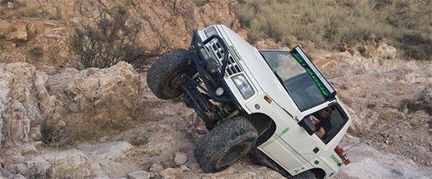 OUR STINGERS ARE MEGA-TOUGH.
Our clients GET OUT THERE.
The driver of the Land Rover, pictured above, has bounced that Stinger off of the bottom of a steep descent, happy to have the support. Others have pushed the limits with their Jeep, Samurai, and Toyota to the point of needing to touch up the paint from time to time.
Keep it upright!
Bad Ass?

YOU BET!
CALL
(520) 235-6242
Custom Stingers, Bumpers, Rock Sliders, JEEP Armor, Boat Sides, Roll Bars, Trailer and Buggy Chassis Fabrication made in ARIZONA. Servicing Tucson, Phoenix, Sierra Vista, and all of Southern Arizona.
STINGERS and BUMPERS - ANY VEHICLE.
Made from 1 3/4", .120 wall tubing, these welded tubes and plates are permanently welded. Stingers help to minimize the chance of a forward flip when descending steep grades. They also make it easier to see where your front bumper is, in relation to rocks and other obstacles.
Make sure that YOUR stinger is welded on! If you just use a bolt-on unit, you can't be assured of strong support.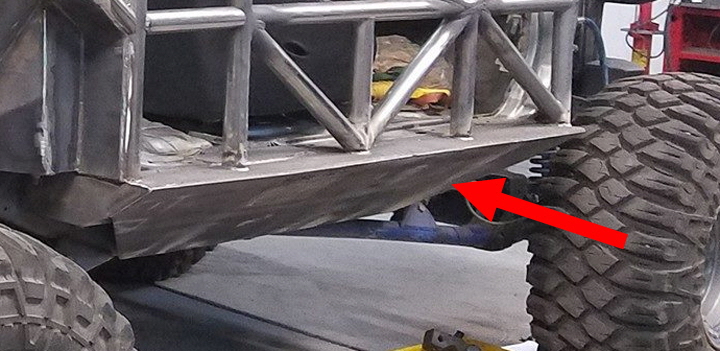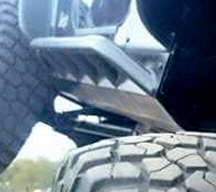 Boat Side / Rock Slider Hybrid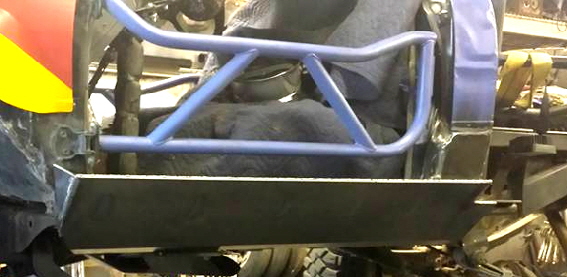 This client has dropped the full 3000 pound Toyota truggy onto the Boat Sides from a 2.5' height onto a pointed boulder and didn't even dimple the bulletproof armor. VERY tough.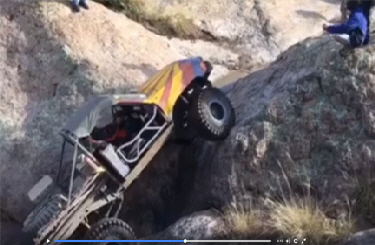 This is the truggy with the boat sides seen to the right. The incredible clearance through V-shaped gaps allows it go up obstacles like this with no scraping and little effort.

SUSPENSION - 3 LINK, 4 LINK, HEAVY DUTY AXLE DESIGN AND TRUSS REINFORCEMENT.
Improve how your trail rig, Jeep, or rock crawler buggy can articulate and take on the terrain.
Years of driving experience and ramp competitions has improved how we can make your truck take on the biggest and baddest that Mother Nature can throw your way!
Super Duty designs to take the hits, climb the rocks, and articulate across boulder fields. When you are ready to take your rig across the nastiest terrain, give us a call.
We are the guys that make the 6x6 Jeep that you may have seen at events and other places online. We built it from scratch, fresh frame, articulating custom axles, and full 6 WHEEL DRIVE. We can take on your four wheel drive, no problem!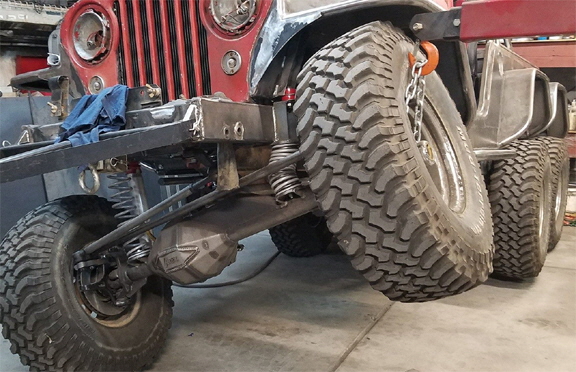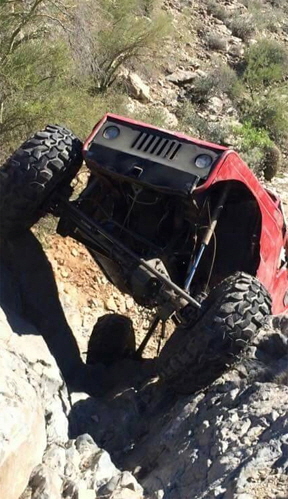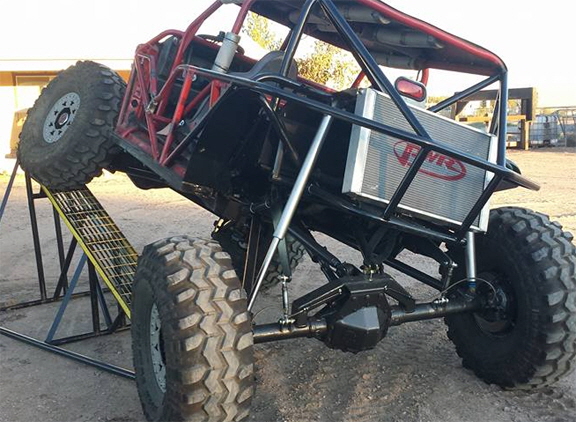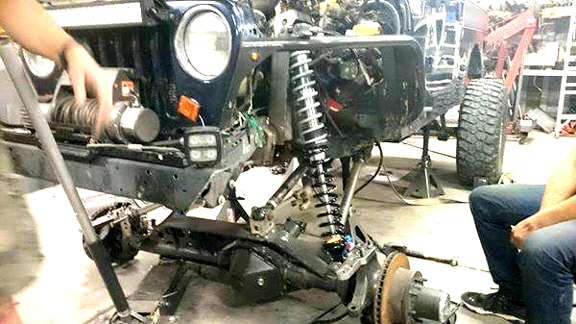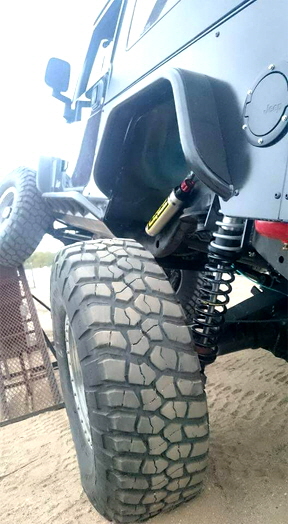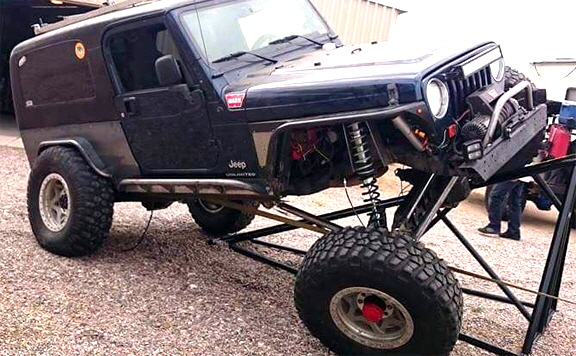 ACTUALLY DRIVE OVER OBSTACLES EFFECTIVELY.
It is amazing how much more traction you can get with proper articulation. You can keep more rubber in contact with the terrain and get through.
Already have a set of axles? Bring them by for modifications and installation.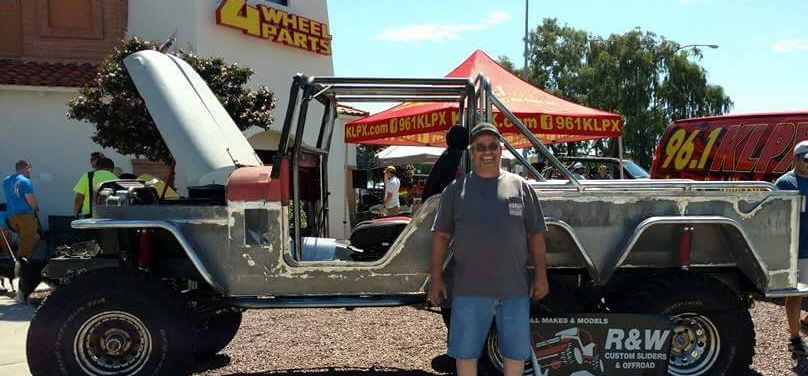 The 6 x 6 Jeep that you've seen in magazines and local shows like the 4 Wheel Parts show, summer of 2016.
Below are build pictures. It can take months to custom fabricate a 6x6 Monster Jeep for you, depending upon what kind of features you need.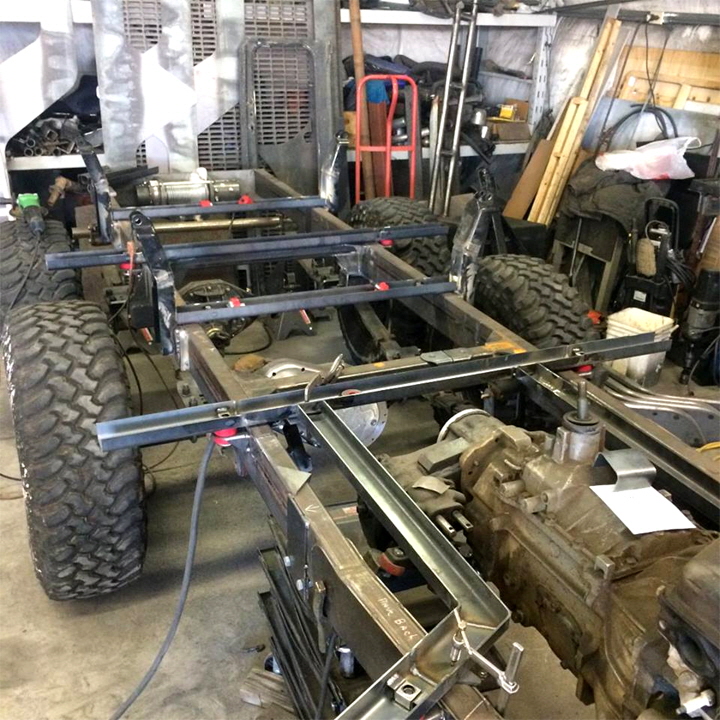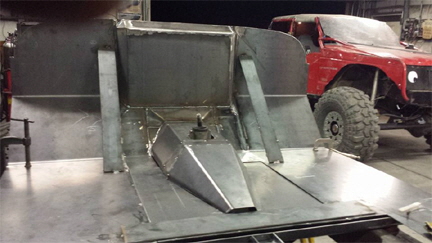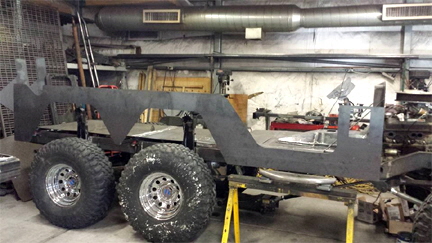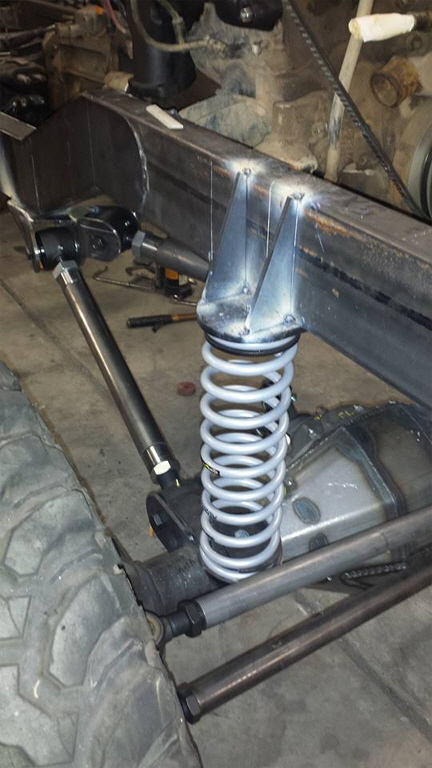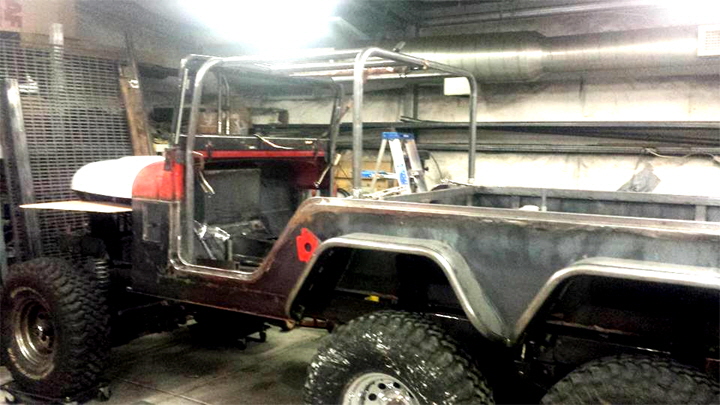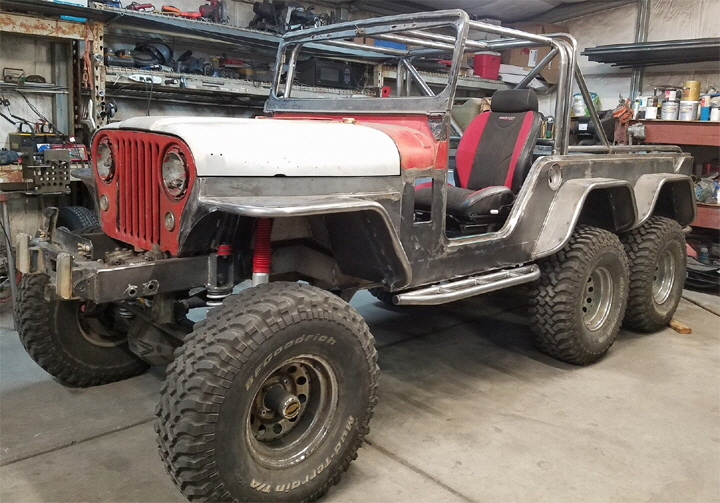 Image what it would be like to own a 6x6 Jeep!
These crazy Jeeps generate huge interest as you motor down the road and on the trail. The fun is incredible!
CALL
(520) 235-6242
6 x 6 Monster Jeep!
We are the guys that make the 6 x 6 Jeep that you may have seen at 4 Wheel Parts events and other places online. We build them from scratch, fresh frame, articulating custom axles, and full 6 WHEEL DRIVE.
Start with an existing, Jeep (that you provide or have us purchase for the project - other vehicles available), then build up a fresh frame with super-duty axles and design the interior compartments to suit your own taste.
Want a 6x6 Jeep?! The most unique Jeep, on or off road. They can carry large loads of equipment and camping gear. They can go almost anywhere. They're a big hit at car shows... and the ladies love them!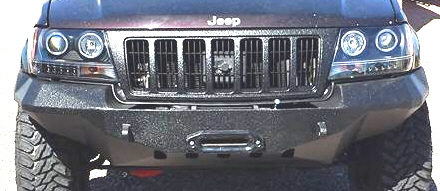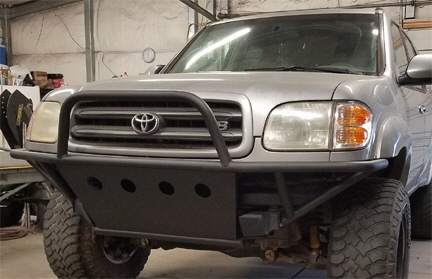 Full-Custom Cherokee bumper
Full-Custom Tundra bumper with stinger push bar and skid plate.
Full-Custom Tracker Samurai bumper with stinger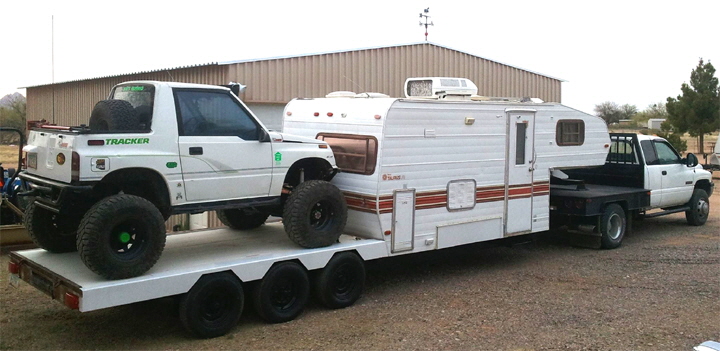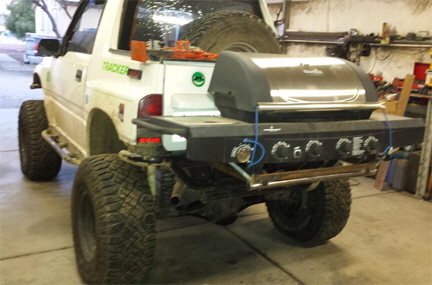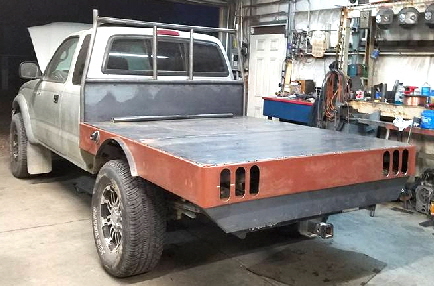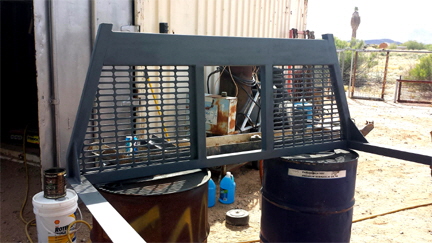 Crawler Hauler and Trailer
When you need that hauler to tow that rock crawler, buggy, or ATV/UTV, we have the experience to set you up the right way. Years of trailer construction. and personal use of RV campers attached to them, has taught us how to help our customers bring the fun and be secure at night.
We also fabricate custom trailers for any type of use and make custom flatbeds for trucks. We also modify existing trailers to taste. We fab headache racks!
Off road trailers, made just for you!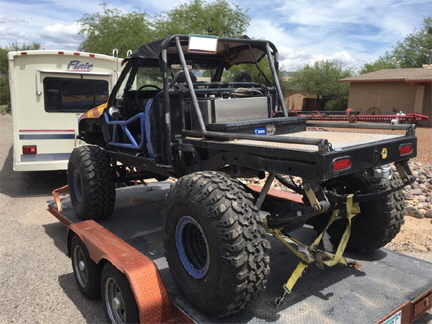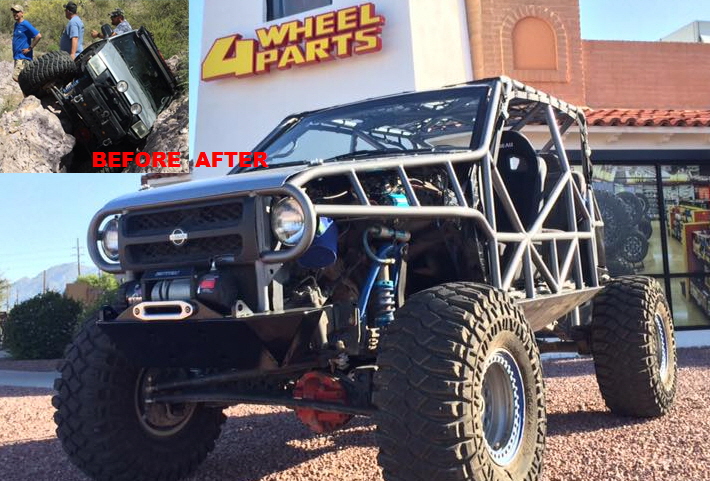 This Toyota truggy had boat sides added under the doors, but also needed the chassis to be modified so that it was easier to get to the tool box on the trail. Original chassis had large 'wings' that went all the way to the roll bar, interfering with the truck's ability to lay on its side and get around massive rocks. The rear of the chassis works much better now and the truggy is far more able.
In Southern Arizona, this Nissan Exterra is known as the Rockterra. The driver of this awesome rig pushed it past the point of crunch and wedged it into a huge crack, crushing the fenders, doors, etc. Sparks flew out of the electronics in the headlight! After your rig has given its all, convert it! Rockterra has emerged triumphant as a rock crawler buggy! 900 pounds lighter than it was before, boat side armor... the works! Your rock crawler has treated you right... resurrect it after you've taken it into crazy-land!
Southern Arizona is now Rockterra territory.
CALL
(520) 235-6242
Chassis and Custom Buggy Frames
We fabricate custom buggies for you or convert your current off road Jeep rig into a serious buggy rock crawler, unmatched on or off trail.
We also modify existing buggies, Jeeps, and rock crawlers. DOM, chromoly, and cold rolled steel tubing get the job done. Armor plating where needed and trusses to reinforce joints. Durable MIG and TIG welding.
BOAT SIDES HEAVY DUTY SLIDERS
Made from BULLETPROOF ARMOR, boat sides are like the HULK VERSION of the Rock Slider world. Often, clients have us do a hybrid where angled armor Boat Sides are incorporated into a more traditional Rock Slider design, offering the best combination.
Buggies tend to have boat sides that are designed to perform as Rock Sliders, but much more body is cut away, or there is no body at all, just a chassis to mount to.
A Jeep with boat sides is more capable of climbing rock waterfalls, able to lay the vehicle onto its side a bit and slide up and over huge ledges. Boat Sides can also take a tremendous beating, taking a hit from the entire vehicle's weight dropping onto them!
HEADACHE RACKS AND CUSTOM FLATBEDS.

Jeep Armor and Specialty Off Road steel fabrications.
You need some tough protection for your differential and/or its cover, come on in. Sewer pipe end-cap diffy modification is affordable and CRAZY-TOUGH at 3/8" thick steel. This differential cover can't be beat, but it can be beaten on! (Below, on Discovery 1 Land Rover).
What other specific fabrication needs do you have for your off road Jeep, truck or buggy?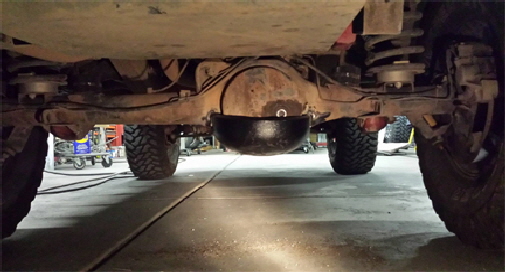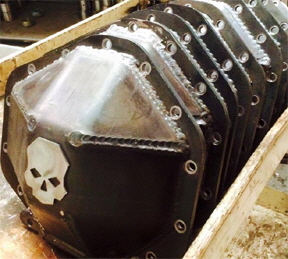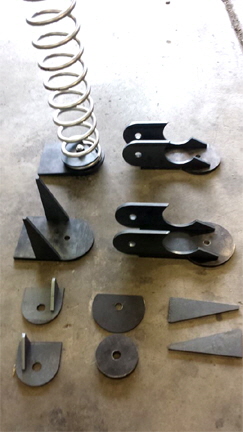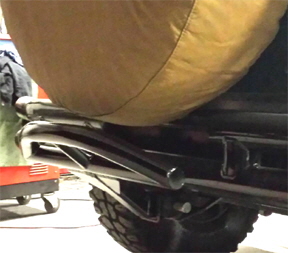 Out for Delivery.
You want one of these rare rigs in YOUR driveway!
Our custom rock sliders, Jeep armor, boat sides, stingers, bumpers, roll bars, trailers, and buggy chassis fabrication are done in Southern Arizona. Many of our clients are from Tucson, Phoenix, Sierra Vista, Marana, Oro Valley, Catalina, Vail, and Rio Rico. We fabricate using MIG and TIG welding on steel plate, bulletproof armor, tubes, tubing, laser cut engineered metals, suspension and axle trusses. We are the fabrication welders that make the 6x6 Jeep, crawler haulers, and Jeep armor, for desert, off road, 4x4, and four 4 wheeler action! Our custom suspension prowess allowed us to build the popular 6 wheel drive Jeep. We also create custom 3 and 4 point, leaf spring, and high articulation trucks. Our clients champion the ramp at many of the non mall crawler events that we sponsor. Be like an off road pirate with rails! We don't offer kit work, we weld engineered steel into place. We fabricate off road for CJ, Willys, Wagon, Pickup, VJ, DJ, FC, FJ, SJ, C101, C104, XJ, MJ, YJ, ZJ, TJ, WJ, KJ, WK, XK, JK, JKU, MK, KK, KL, BU, (5, 7), Commanche, Cherokee.
LEGAL DISCLAIMER - CLICK HERE. / FAQ - CLICK HERE. Sitemap.xml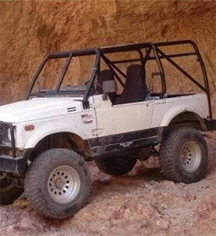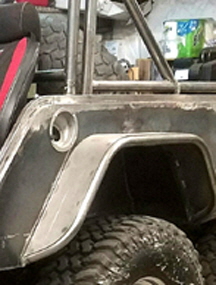 Tube Fenders &
Body Armor.

Jeep Tow Bar - Available for any need.








SCROLL DOWN TO SEE ALL OF OUR CUSTOM FABRICATED JEEP ARMOR PRODUCTS.
OUR JEEP ARMOR PRODUCTS ARE CUSTOM MADE TO FIT ANY OFF ROAD VEHICLE. THEY ARE CUSTOM FABRICATED AND WELDED ON FOR SUPER-HEAVY-DUTY DURABILITY THAT BOLTED ON PRODUCTS CANNOT MATCH.
SPONSOR OF MANY OFF ROADING EVENTS IN SOUTHERN ARIZONA. PROVEN QUALITY!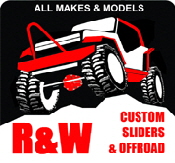 CUSTOM ROCK SLIDERS, JEEP ARMOR, BOAT SIDES, STINGERS, BUMPERS, ROLL BARS, TRAILER

BUGGY CHASSIS FABRICATION IN TUCSON, PHOENIX, SIERRA VISTA, AND SOUTHERN ARIZONA.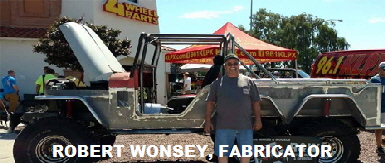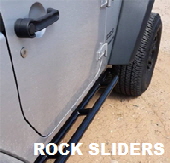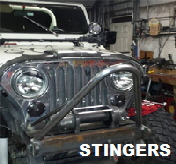 R&W Custom Sliders & Off Road
11241 N. Paseo Alejandro
Marana, AZ 85653
LEGAL DISCLAIMER: All services and products offered by R&W Custom Sliders and Off Road are considered to be experimental and are for off road use only. It is up to the customer to decide how to use the products and services. R&W accepts no liability.